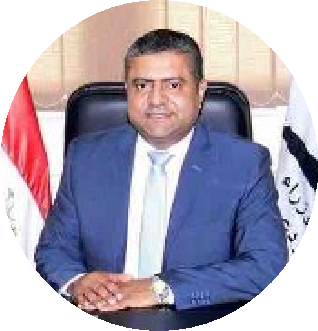 Eng. Elgamal graduated in Telecommunications and Electronic Engineering from Ain Shams University in 1991. He worked his executive diploma in Business Administration in1999 at the Arab academy of science & technology in collaboration with university of Illinois. In 2000, he attended Software Capability Development program at CBI in the Netherlands, then graduated from Senior Executive Program in Ahmed Abad Institute of Management in cooperation with FGF in 2006.
Eng. Elgamal professional experience is a blend of Technical, International Business Development, and General Management.Within the World of international Business Development, he has become renowned for his vision and ability to foresee future opportunities and execute technical and marketing strategy to deliver successfully.
Among others Eng. Elgamal established in 2008 with a European partner Edrac (www.edrac.com) to serve in bridging the technology and Human resources capacity needs between EU and Egypt.
Also Eng. Elgamal established in 2011 with 4 prominents ICT entrepreuneurs AGORA to serve in providing B2C mobility solutions and services with plans to expand globally.
Along with the professional career, Eng. Elgamal started his NGO activities since College, but among others he mainly initiated the French Speaking Engineers Association www.aife-egypte.org in 1993 and became its first chairman, with a prestigious elected board. The association provided Seminars, Workshops, projects, work and training for the engineers as well as scientific, culture and social events.
As part of the activities, AIFE partnered in 2010 with the ministry of higher Education for the activities of French Egyptian year of Science and Technology.
Eng. Elgamal is currently the Vice- Chairman of Eitesal www.eitesal.org, while he was a board member of and chairing its Software Division with 150 members for the last 2 years catering them and all the SW industry with required activities to boost their business development, technical and entrepreunership capabilities, he is among others member of of several committees in MCIT, ICT chamber, the AMCHAM and the CANCHAM.
Eng. Elgamal is actively participating as a leading member of the esecurity and eknowledge transfer community in Egypt, participating in formulating the awareness and maturity strategy.