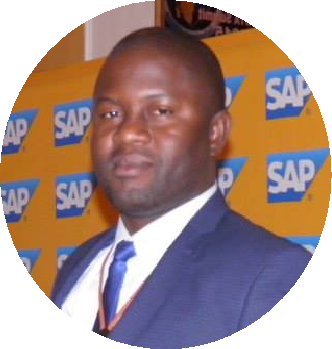 Solomon 'Gbenga Fijabi
Solomon 'Gbenga Fijabi, AfICTA Treasurer is an experienced and Practicing Auditor with over 15 years' professional experience in Information System Audit, Consulting, Project Management-Governance; business requirements analysis, business process re- engineering & management of change; Legal and regulatory framework; training and capacity building, internal and external auditing for a number of national, regional and international clients within government, non-governmental organizations and private sector.
 Olugbenga Fijabi a seasoned IFRS expert and respected analyst on Corporate Governance and Financial Reporting matters, with over years practical training experience spanning virtually across every section of business endeavour. He has implemented various Public Financial Management (PFM) reforms such as Government Tax Auditing and Lagos State Tax administration Agency, 3-tier PFM strategy for local governments, Public procurement and implementation of interfaces with other public bodies such as the Central bank, Auditor general Of the federation.
 Lead the implementation and Conducting of Audit Team for (NIGERIA DEPOSIT INSURANCE CORPORATION) AGENT- BANKS Accounts Reconciliations and Investigation of (1998-2011 Accounts) that recouped N13.77Billion for the Corporation. Led, Federal Inland Revenue Service Debt Recovery and Reconciliations of Tax Audit Dispute report Project between Ministries and Corporation Team Lead on Bank Charge audit and Investigating Bank Loan Audit for Stanbic IBTC for the 2000-2005 report to Audit & Risk Committee.
Team Led on Creation of the Risk Management for the Swap Mobile-Card Payments System and Collocation Project (now On-going). Senior Management Consultant to the Obat Oil & Petroleum on Business Evaluation Development Project and Trade-line fund Project Mgt. Controlled change Management and Risk assessments activities to support projects of clients like Trends Ventures Ltd, Trandisc Manufacturing Company Ltd, Midas Stockbrokers Ltd.
In-depth knowledge of public sector Budget Preparation, Budget Classification, Budget execution and expenditure control, Accounting and Fiscal Reporting and audit processes as harmonized with International best practice frameworks including International Public Sector Accounting Standards (IPSAS), Government Finance Statistics (GFS),International Standards in Auditing (ISA) and several country specific financial management and audit legislations.
He has a wide experience in Public Expenditure and Financial Accountability (PEFA) Assessments, due diligence reviews and other diagnostic assessments. He also has an extensive experience in staff recruitment, coaching, mentoring and development. This covered capacity building for Government accountants and corporate organizations Management Personnel.
Gbenga bagged Professional Membership, Chartered Institute Of Taxation Of Nigeria, Member-Chartered Institute Of Management Accountant Of Nigeria, Affiliate, Association of Chartered Certified Accountants of the United Kingdom, Member-Chartered Institute of Cost & Management Accountants of Nigeria, Member of Chartered Institute of Financial and Investment analyst, Nigeria and South Africa, Member, Chartered Institute of Loan & Risk Mgt of Nigeria.
Master In Corporate Finance/ Management Strategy (in View), Post Graduate in Business Management in Obafemi Awolowo University, Ile-Ife, Osun State, Higher National Diploma In Accountancy at Ondo State Polytechnic, Owo, Ondo state.
Gbenga presently Manage a consulting firm: Great Financiers consulting Ltd, Co-partner in B.M Okebunmi & Co. (Chartered Accountants), formerly Finance Manager for Obat Oil & Gas Ltd, a Senior Mgr at Yinka Adesanya & Co (Chartered Accountants), Senior Consultant at YAC Professional Services and K.C Ajayi & Co. (Tax Advisor & Accountants).
Save