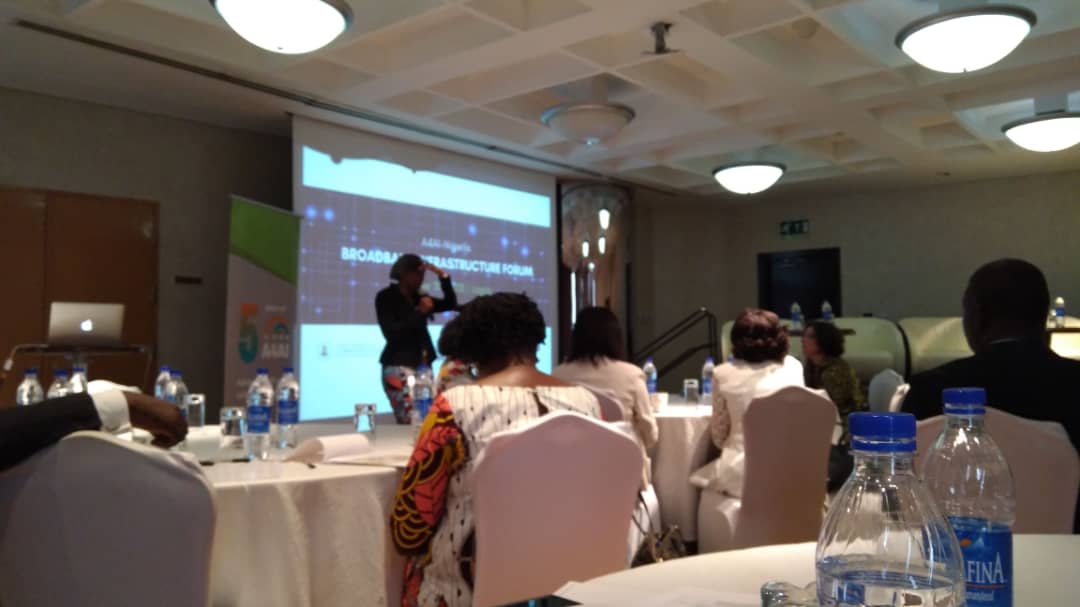 Dr Omobola Johnson presenting keynote at the A4AI Nigeria broadband Infrastructure Forum Opening Ceremony
It was another successful deliberation on improvement of broadband Infrastructure and broadband service delivery @ the Alliance for Affordable Internet (A4AI) Nigeria Coalition meeting that was held on 31st October, 2018 @ Lagos Continental Hotel, Lagos, Nigeria. The meeting was widely attended by all stakeholders committed to shaping policies and regulations that directly affect broadband affordability in Nigeria.
AfICTA was represented at the meeting by Paul Rowney, an A4AI advisory council member and AfiCTA board member.    
The Alliance for Affordable Internet (A4AI)—the world's broadest technology sector coalition—brings together prominent players from government, the private sector, and civil society to work to reduce the cost of a broadband connection and enable billions more to come online
Since 2014, A4AI-Nigeria has been working on four priority issues to unlock the potential for affordable, universal and equal access in the country: infrastructure sharing and open access, spectrum, consumer awareness and pricing transparency, and taxation and financing. At the coalition meeting, the A4AI-Nigeria coordinators and working group champions reviewed progress to date and engage members on strategic focus and input for a new broadband plan for Nigeria.
You can recall that on the 20th of Sept 2012, former President Goodluck Ebele Jonathan, GCFR, inaugurated the Presidential Committee for a national broadband strategy and roadmap. The committee was chaired by Dr Ernest Ndukwe, and Mr Jim Ovia supported by a cast of 15 core members representing various stakeholder groups in the sector, and an additional set of co-opted members. This sole step taken by the administration has yielded tremendously towards the fulfillment of digital Nigeria.
It is noteworthy that whilst the A4AI is just 5 years old, its continuous engagement of relevant stakeholders has gained impetus and yielded positive result such as the UN Broadband Commission adopting the A4AI's "1 for 2" target for affordable internet — 1GB of mobile broadband data available for 2% or less of GNI per capita.  Nigeria among some other nations have now met the A4AI broadband affordability target as indicated in the recent 2018 A4AI Affordability Report and Economist Intelligence Unit (EIU).