AfICTA Summit 2013 to fulfill the promise of the Digital Age for everyone in Africa
AfICTA, Africa ICT Alliance, a private sector-led initiative of ICT industry leaders in Africa, celebrated its first anniversary, 26-28 June 2013 in Lagos, Nigeria with an inaugural Summit with the theme: "Fulfilling the Promise of the Digital Age in Africa". Delegates attended the event from Nigeria, South Africa, Egypt, Kenya, Togo and the USA with many others from South Africa, Rwanda, the Gambia, Burundi and Namibia participating remotely.
At the end of its 1st physical Board Meeting on 25 June, 2013, the Board members signed the Lagos Declaration with the commitment to:
Uphold the vision, mission and goals of AfICTA
Support, promote and defend the multi-stakeholder principle of ICT and Internet governance
Enhanced Cooperation (all stakeholders working together) as a principle for collaborative governance for Africa's sustainable socio-economic development
Enriching African economies through continuous networking, business to business and ICT driven intra-African trade
Engage and cooperate with other stakeholders and stakeowners towards the realization of all the above
Speaking at the opening ceremony, Ms FunkeOpeke, Chair of the occasion and CEO MainOne expressed the need for WSIS targets and goals to be sustained beyond 2015 through wider collaboration and synergy among all stakeholders. Ms Marilyn Cade, CEO ICT Strategies highlighted the efforts made to grow the multi-stakeholder approach to Internet policy development since 1998 at the founding of ICANN (Internet Corporation for Assigned Names and Numbers) and thus underscored the need for African business voices to be heard to assure stable, secure and resilient Internet ecosystem. Mike Silber ICANN Board member while thanking the organisers for the Summit expressed ICANN's commitment to engaging all stakeholders in Africa through the African Strategy in order to raise the bar for the next level in DNS domain business and Internet governance discussions in Africa. Leaders of delegation from South Africa, Roger Latchman, WITSA (World Information Technology and Services Alliance) Vice-Chair (Africa); Kenya, Dr Waudo Siganga, Chair, Computer Society of Kenya; Egypt, Engr Hossam Elgamal, Vice-Chair EITESAL; Nigeria, Engr Lanre Ajayi, President Association of Telecommunication Companies of Nigeria (ATCON) all expressed delight in AfICTA as a vehicle of critical intra-African engagement in ICT and as means of growing businesses in Africa through B2B.
Speaking earlier, AfICTA Chair, Jimson Olufuye said "When ICT leaders in Africa come together and network appropriately, it is possible to share knowledge, best practices and critical resources thereby minimizing capital flight out of Africa and thus engender needed growth and development. … By working together to put affordable devices into the hands of all Africans, we will empower them with knowledge and link them to the economic opportunities of the connected world."
He further said that "With thorough and fluid discussions, I believe the gains recorded in the last 10 years wherein global extreme poverty was reduced from 43% to 21% can be further reduced more drastically in Africa in the next 10 years as more underlining principles of free enterprise are embraced by governments across Africa. We applaud the progress being made and we want to use the platform afforded by AfICTA and its members throughout Africa to spur our leaders in business, in government and in the community to greater efforts in achieving affordable,and reliable access to the global networks for all Africans."
Presentations on progress made using ICTs in Edo and Ondo States were given by MsYemi Keri, Director-General/CEO Edo State ICT Agency and MrTundeYadeka Special Adviser on ICT to the Governor of Ondo State.
Apart from the ICANN Business Constituency Outreach and the DNSSEC Roadshow with more than 100 participants, 45 techies and 9 delegates participated in the 2-day DNSSEC Hands-on and the Global Best Practice in Procurement and Project Management Workshops respectively.
One of the hallmarks of the 3-day AfICTA (Africa ICT Alliance) Summit is the winning of the African ICT Champion Award by Leo Stan-Ekeh, Chairman, Zinox Technologies Ltd. Leo Stan drew 66.5% of the total vote cast across Africa to emerge as the African ICT Champion 2013. The AfICTA Board also awarded the ICT Champion 2013 to the runner-up Manal Amin. CEO of Arabize.com of Egypt for her outstanding achievement in the software and IT services sector. Recognized for their exemplary contribution to the use of ICTs for sustainable Africa's socio-economic development were FadiChehade, CEO & President, ICANN (Internet Corporation for Assigned Names and Numbers); Dr Fred Matiang'i, Cabinet Secretary, Ministry of Information and Communication Technology, Kenya; Ms Marilyn Cade, CEO ICT Strategies, LLC; & Chief Catalyst IGF USA..

L-R: Roger Latchman, WITSA Vice-Chair South Africa, LanreAjayi, ATCON President, Jimson Olufuye, Chair, AfICTA, WaudoSiganga, Chair Computer Society of Kenya, BayeroAgabi, President Tribes Media Company, MsFunkeOpeke, CEO MainOne, Mike Silber ICANN Board Member, HossamElgamal, Vice-Chair EITESAL Egypt

L-r (Front row), Ms Oki Olufuye, Ms Ariola Akinyemi, Ms Marilyn Cade, Leo Stan-Ekeh, Jimson Olufuye, DrWaudoSiganga, Faith Oyeleke,
L-r (backrow): MuyiwaShamakin, LanreAjayi, OpeOdusan, Dr Richard Lamb, Alain Aina, Ms Mary Uduma, Ms Ajayi

R-L, Mike Silber ICANN Board member, Marilyn Cade USA, MsFunkeOpeke, CEO MainOne, Jimson Olufuye Chair AfICTA,…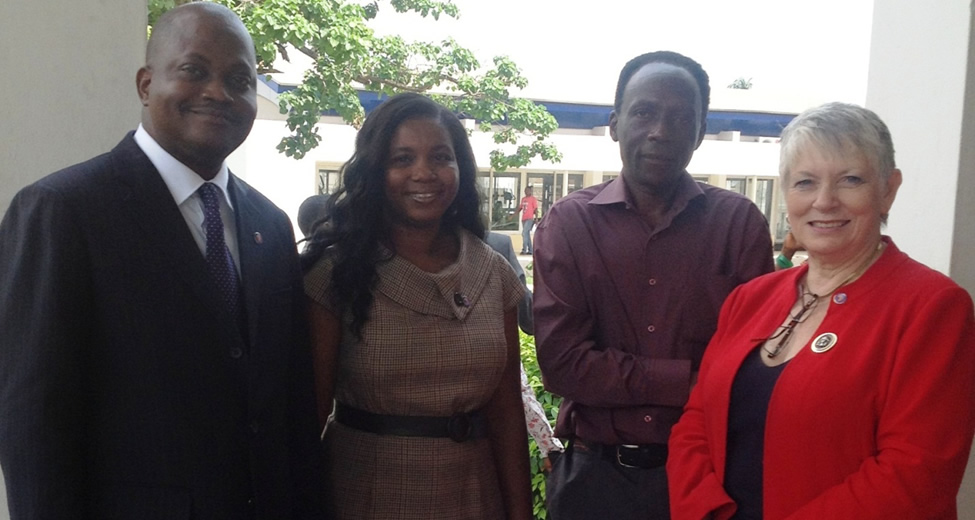 R-L: Marilyn Cade USA, Waudo Siganga Kenya, Ola Akinyemi Nigeria, Jimson Olufuye Nigeria @ AfICTA Summit 2013