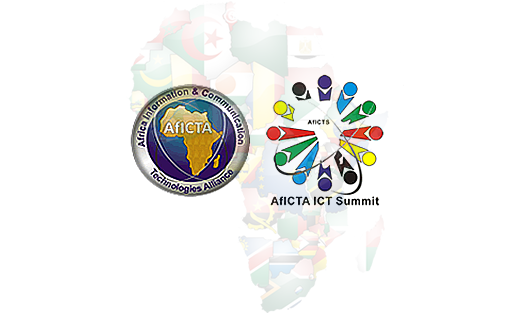 PRESS RELEASE
By Engr. Lanre Ajayi, LOC Chair AfICTS and President Association of Telecom Companies of Nigeria (ATCON)
AfICTA – (Africa Information and Communication Technologies Alliance) is pleased to announce the convening of its first ICT Summit (AfICTS) in collaboration with the United Nations Economic Commission for Africa (UNECA), Internet Corporation for Assigned Names and Number (ICANN), Nigeria's Ministry of Communication Technology, Nigeria Internet Registration Association (NIRA),Internet Exchange Point of Nigeria, Edo State Government, National Office for Technology Acquisition and Promotion (NOTAP) and a host of others. The event is scheduled to take place at the Digital Bridge Institute, Oshodi, Lagos on 26-28 June, 2013.
The theme of the Summit is "Fulfilling the Promise of the Digital Age in Africa".
With a population of more than 1billion, GDP of over US$2t (2012 est.), growth rate of more than 5%, and  with a huge natural resource base, Africa is poised to cheetahpolevault its development for a 21st Century African renaissance. As the private sector led voice of the Continent's ICT industry and in line with its vision towards the fulfilment of the promise of the digital age for everyone in Africa, AfICTA is conveningthis Summit to connect key ICT leaders in the public and private sectors across Africa to brainstorm and thus engender the fulfillment of the promise of the digital age in Africa.
The promise of the digital age is as articulated in the Geneva Convention 2003 and the Tunis Agenda 2005 of the World Summit on Information Society (WSIS) for an Information Society by 2015; a global society that reaps the full benefit of Information and Communication Technologies (ICT), thereby bringing dividends of improved living standard, wealth and prosperity for citizens. Can this be a reality in Africa?
The 3-day Summit is geared to addressing the roadmap for a digital Africa. On day 1, there would be Business leaders Outreach Programme by the Business Constituency of the Internet Corporation for Assigned Names and Numbers (ICANN) and DNSSEC awareness/adoption Workshop to be conducted by ICANN Security and Stability Task Force. The DNS Workshop will run concurrently with other events on Day 2 & 3 solely for Network engineers. 
As a way of recognizing African ICT Champions, a dinner will be hosted to honour African ict Champions selected based on public input. Please nominate your candidate.
About AfICTA
Africa Information & Communication Technologies Alliance (AfICTA) is a private sector led alliance of ICT Associations, multi-national corporations, organisations and institutions in the ICT sector in Africa. Read more...