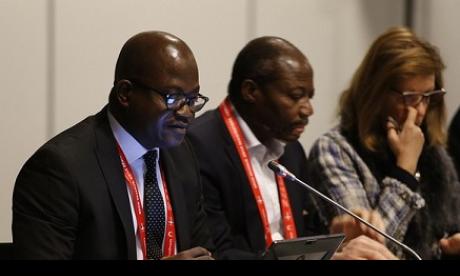 ICANN57 was the first ICANN Public Meeting after 1 October 2016, when the Internet Assigned Names Authority (IANA) functions contract with the U.S. National Telecommunications and Information Administration (NTIA) expired. Africa was well represented at this historic meeting, with over 100 participants from 31 countries. The program offered two sessions related to Africa: Africa Strategy Update and Joint AFRALO-AfrICANN Meeting.
Africa Strategy Update This session updated participants on the flagship programs in ICANN's Africa strategy over the past three years, including the DNSSEC roadshow, the Africa DNS entrepreneurship program and YouthComm. Participants also learned about some newer initiatives. Our regional partners provided details on other activities, including the Ethiopic label generation rules under the Internationalized Domain Name (IDN) Africa project. The session reinforced ICANN'S involvement with regional partners in the Internet ecosystem
ICANN's Pierre Dandjinou, VP of Stakeholder Engagement in Africa, received a recognition award from Dr. Jimson Olufuye, Chairman of the Africa Information and Communications Technologies Alliance (AfICTA) in recognition of his active outreach effort in Africa.
Joint AFRALO-AfrICANN Meeting
Introduced to the ICANN meetings four years ago by the African Regional At-Large Organization (AFRALO), the session is a venue for the African community to meet and discuss progress on the continent's participation in ICANN to date. ICANN's President and CEO Göran Marby addressed the community, highlighting the importance of the IANA functions transition. He thanked African community members for their full involvement in the transition process. During the comment period with Marby, a recurring theme was the need for ICANN to deepen its support in Africa so that Africa can become a true participant and contributor to ICANN's policy development and other activities.
Save
Save
Save